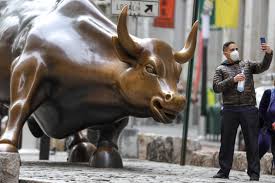 The hidden secret in Elon Musk's role in the current bull run
The entire cryptocurrency industry is volatile and is quite deeply affected by rumors and speculations. Most importantly, when such statements are made by influential figures in the tech industry, the probability of fluctuations is huge. Even in the current bull run, several tweets and news have caused the market to skyrocket and dump.
However, few of the most observable events were caused due to the tweets and statements made by Elon Musk, the founder and CEO of Tesla and SpaceX.
To begin with, the stock of GME was already soaring above 600% of its long-time value when Musk jumped into the game and tweeted "Gamestonk!!" in front of his massive 40M following on Twitter. Of course, most of the noobs took the fall and invested heavily in the stock, driving its price by another 1000%.
It should be mentioned that apart from just being a multi-billionaire and the CEO of two of the most successful companies on the planet, he is quite actively involved with his followers and converses on an array of topics, ranging from alternatives of WhatsApp to stocks and cryptocurrencies.
Not only this, but he was also able to calm down the exponentially exploding bull run by calling the BTC valuation "excessive". Since he is quite successful in the tech industry, people take everything that he says on the face value, thus enabling him to throw the market off or pull it up in most uncertain times as well.
Moreover, from the perspective of "who causes bumps and dumps", the trend is relatively new. Previously, only investors and some tech gurus used to drive the market, and even on their calls, the movement was not so sharp. However, in this bull run, an entrepreneur seems to be fueling the market direction.
Apart from that, several investors have also started pouring their money into any asset that grabs Elon's attention – just because of the recent events and how exponentially the given asset booms after his tweets.
Another major but relatively short bull run was for Dogecoin when Musk tweeted "SpaceX is going to put a literal dogecoin on the literal moon". This tweet helped the "fun coin" increase in value by several hundred percent and enabled investors to bag huge profits. However, soon after the event, Musk made a statement on Clubhouse in which he said "Occasionally I make jokes about dogecoin, but they are really meant to be jokes".
While Musk also enjoys his reputation of being a "market whisperer" and it's evident that he likes to see the market moving on his calls, it cannot be ignored that these events often become hot topics in his company's legal department as SEC is also skeptical about such massive manipulations, however, they couldn't get him off Twitter. So, nobody can tell how long Elon Musk is going to enjoy his unofficial position as a market whisperer.